Are you planning to propose in Cracow and wondering where to pop the question? As a Cracow photographer and Cracow lover, I come to the rescue! This city is so beautiful and so vibrant, and with countless fantastic locations to choose from. No matter if you're after a city vibe, or trying to find a more secluded place surrounded by nature, or great restaurants with the best views of the city. I'm Polish, Cracow is my beloved city and trust me—I know the best spots! Check out a couple of ideas below to find out where to propose in Cracow:
Proposal in Cracow: Main Square
This one was obvious, wasn't it? Perhaps it's a bit cliché but Rynek Główny, one of the largest medieval squares in Europe, is perfect for a surprise proposal. But you know what? It's absolutely stunning during sunrise—the only time of day when it's not crowded. And this is exactly when I recommend that you take your second half for a walk through the Old Town. Especially if you want your proposal to be photographed! The light is perfect and no one will step into the frame. :)
Proposal in Cracow: Kanonicza Street
If you're looking for something more specific, consider Kanonicza street, named the most charming corner in Old Town Cracow. Hear the sound of horses clopping down the cobblestones, admire the colourful historic townhouses, and be led straight to the majestic Wawel Castle. It's worth to mention that Kanonicza boasts some of the best Polish restaurants in town which have outdoor seating areas. Wouldn't they be perfect for a romantic dinner after your surprise proposal in Cracow?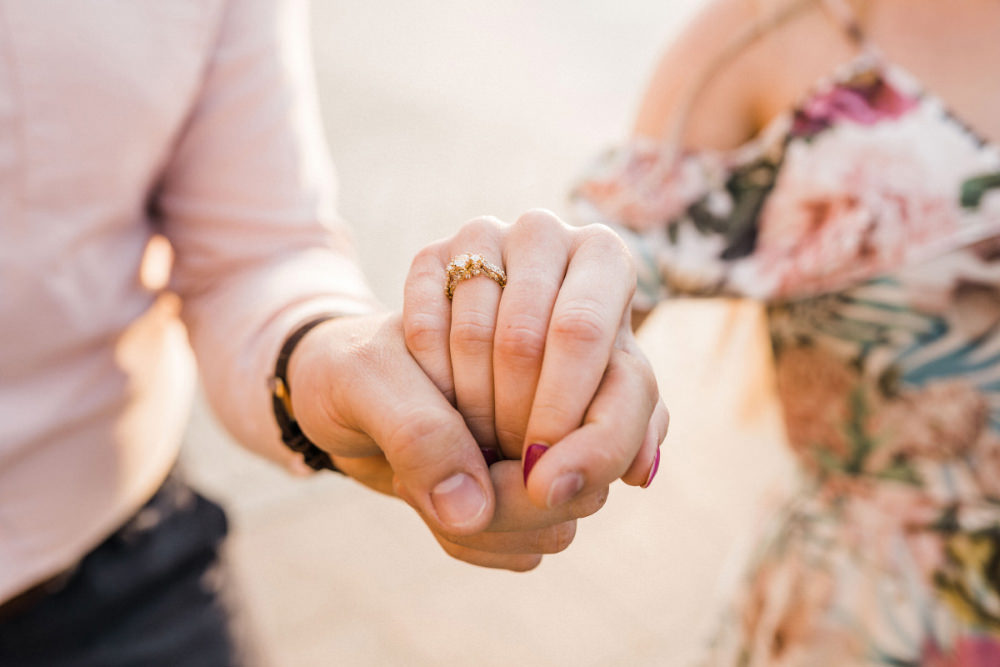 Proposal in Cracow: Wawel Castle
Here's another obvious choice but… I have an insider's tip for you right here. Even though there might not be anything more romantic that the Italian-styled main courtyard, do consider running away from tourist crowds. Cross the bridge and arrive at the other bank of the Vistula river. That's where the locals go to read a book, relax and admire the magnificent Wawel Hill from the best possible spot.
Proposal in Cracow: Botanical Garden
Did you know that there's a botanical garden in Cracow? It's not very big but still—it's such a perfect little oasis in the middle of a bustling city center! Romantic alleys, a pond among trees, photogenic orangeries and abundant flowers will be such a charming backdrop for your surprise proposal. Great choice for someone who wants nature but doesn't want to look far. It's usually open from 9 a.m. to 5 p.m., from April to the end of October. Admission fee is 9 PLN, cash only.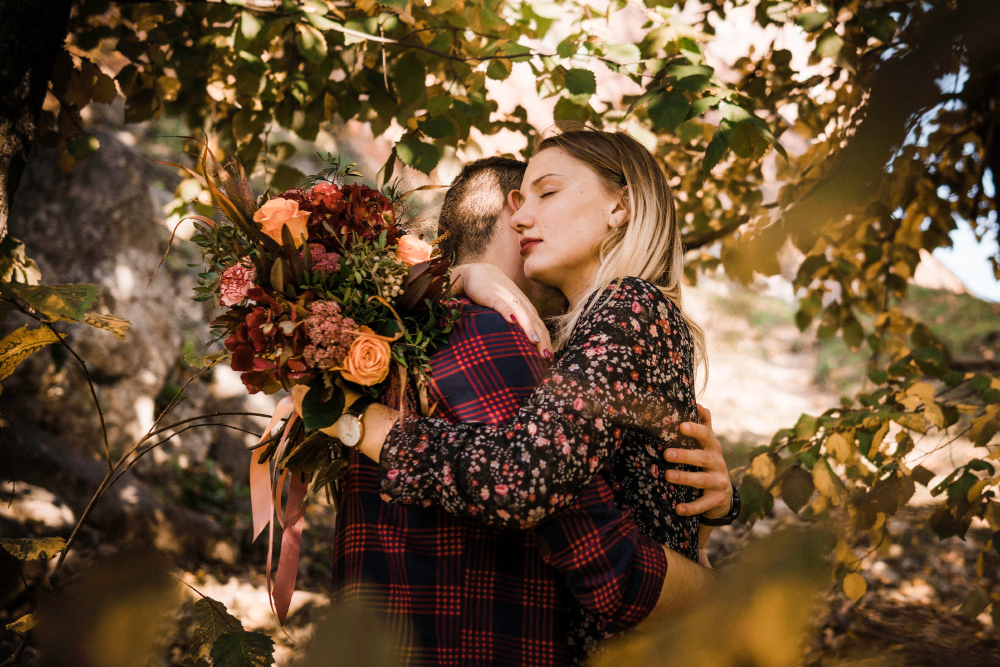 Proposal in Cracow: Kopiec Kraka
There are so many mounds here! The most famous one is Kopiec Kościuszki, located close to the zoo and with a lovely panoramic view of the whole city (admission fee 15 PLN). But Kopiec Kraka (also sometimes called Krakusa) is a place where locals go—and it's for free. There are virtually no tourists there and the views are great, that's why it's such a nice spot to watch the sunset or… to propose in Cracow! How about organizing a picnic with a view under a picturesque tree?
Proposal in Cracow: Kładka Ojca Bernatka
Between Kazimierz and Podgórze neighbourhoods, there's an interestingly designed Father Bernatek Footbridge. Since the very beginning, it has been a place of couples in love who, as a sign of their commitment, hang engraved padlocks there. So do leave your own after hearing a "YES!". Be warned though—during the day, especially during warm weekends, it may be very crowded. If you're looking for a more secluded place, reach out to me, as I know a couple of calmer spots nearby with a nice view of the footbridge! :)
Proposal in Cracow: Zakrzówek
This is one of the spots that I most often recommend to my clients when they ask me where to propose in Cracow in a more secluded location, but at the same time a stunning one. Most of the tourists have no idea that a place like this even exists! Zakrzówek lake, with its crystal-clean, intensely turquoise water contrasting with white limestone rocks and abundant plants is a perfect place for an intimate proposal at any time of year. Nearby, there's a fantastic spot with a view of the Wawel Castle. It may be full of people in summer but I know where to go for everything to be ideal. :) Zakrzówek is easily reachable by taxi or public transportation within 20-minutes from the Old Town.
Proposal in Cracow: Tyniec
The Benedictine abbey in Tyniec is a very nice place to visit if you stay in Cracow for a little bit longer. Naturally, it's also a fantastic spot for a surprise proposal! You can do it in the inner courtyard next to the Church of Saints Peter and Paul, or while you take a walk in the beautiful area next to the Vistula River from where you'll have a pretty view of the abbey. But the best spot is probably this one:
Let me photograph your surprise proposal in Cracow!
I think you've guessed it already! Yes, I'm a photographer. I specialize in photographing proposals in Cracow and have plenty of ideas of how to make them even more memorable! Wouldn't it be great to offer your significant other not only a ring but also photographs of the moment? Believe me, the emotions of surprised and happy women look brilliant in photos and are something to cherish for years. There are at least 3 ways to organize a surprise proposal shoot. I have a couple of tricks to make sure that your loved one will have no idea what's coming! :) No matter the budget you have, we'll be able to prepare something extraordinary.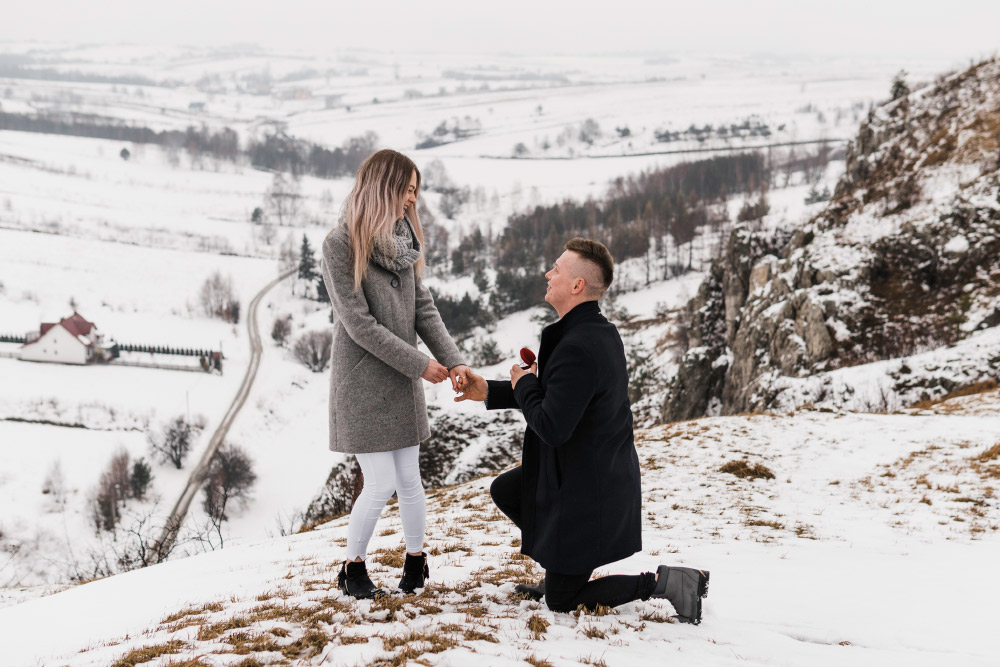 I guess now you know where to propose in Cracow! I'll be happy not only to photograph your proposal but also to help you organize it. Need help choosing the perfect location? Do you need a reservation at a restaurant with the best view of the city? Would you like me to order beautiful flowers, buy her favourite champagne or arrange music? Or you're thinking about what would be the best place to stay for a newly engaged couple? Hmmm… what about a suite with an outdoor jacuzzi on a rooftop with a view of the Wawel Castle? :) Let's talk details!
See these examples of surprise proposals in Cracow that I photographed:
Or you're still looking for an engagement ring? Check my article: