Have you ever happened to see a proposal? A smile immediately appears on your lips and you can't resist to clap your hands, right? It's always very emotional, not only for the couple that is getting engaged but also for everyone who watches them. A proposal is beautiful and touching but it has one serious drawback: it's an extremely fleeting moment!

Many of my friends have told me that they didn't actually remember what their boyfriend said when he went down on his knee. They were so shocked that the whole world stopped for them for a while. Some couldn't even remember what was said! Now, I—the Cracow surprise proposal photographer —come to the rescue! I'll beautifully capture the moment that lasts only a few seconds. Thanks to the photos you can relive it over and over, as well as share it with your family and friends or just keep it for the future. Perhaps for your children? :)
"Will you marry me? *Click!*"
There are at least three ways to organize a surprise proposal. Each of them has its pros and cons so it's worth thinking it through.
Option 1: The photographer is a total surprise. Although this isn't the easiest option, it definitely is the most popular one and the results are amazing! How does it work? Your second half has no idea what's going to happen. You take her/him for a "casual" walk and we meet in a carefully selected, previously agreed spot. I pretend to photograph the Wawel Castle or the birds on the tree but at the same time I'm ready and alert, watching you out of the corner of my eye. At a specific point agreed almost to a centimeter, at the right angle and at the right moment, you go down on your knee and I photograph her reaction. :)

It's the best when I approach you and the girl suddenly starts to hear the sound of the shutter. They often ask "And who is this girl…?" or "Look, somebody's taking pictures of us!". Once they find out you took care of it all, their face is priceless. These emotions are simply great and absolutely impossible to repeat!
Option 2: Proposal during a photo session. In this case, the girl knows that there will be a photo session but she has no idea that you will propose to her during the session. You can "gift" her a professional photo session for a relationship anniversary, a birthday, Christmas or even for no occasion. Sometimes my client's family is involved in preparing the surprise—for example, the girl's mom may "gift" the session to the couple. Pros? For me, this means full control of what happens and when. I can even position you in a specific way, taking into account the background or the light. What's more, the girl will prepare for the session (make-up, clothes), which may be very important for some girls as they want to feel beautiful during such an important moment. Cons? If you don't like photos in general, she might get too suspicious about the idea of a photo session and the whole plan will be ruined.


Option 3: The surprise proposal photographer is hidden. While this is an interesting option it is also the most risky. Being hidden and at a considerable distance from you, I don't have full control of the situation. I can't guarantee that, at the most important moment, someone or something won't enter my frame and won't ruin the photo. Another downside is that we won't be able to do the engagement session afterwards. However, there are clients who want to give photos of this moment as another surprise, at a later date. Imagine how she'll react when she finds an album with the photos taken during your surprise proposal in Cracow in the summer under the Christmas tree, for example. :)
I discuss each option in detail with my clients, presenting the pros and cons, and together we choose the solution that will work best. Everything depends on the time of year, time of the session, location, and many more factors. Would you like me to capture your surprise proposal in Cracow? Contact me here or via e-mail:
Surprise proposal photographer — what can go wrong?
The answer is: everything! However, an experienced surprise proposal photographer will anticipate most of the possibilities, prepare a solution quickly, and even have a plan B, C and Z covered. ;) A proposal can be organized in a private or rented place (for example, at a hotel, a restaurant, an apartment, a private garden or other private land) or in public space.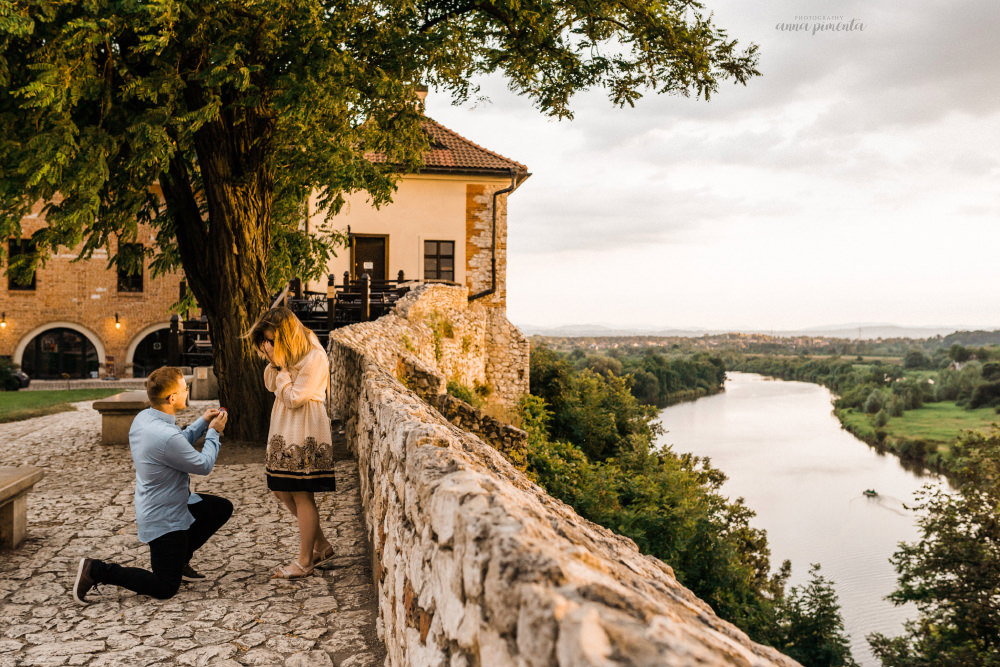 In private places the owner often works closely with me during the organization, we have their support and assurance that e.g. some part of a terrace will not be available for other guests during the proposal. In the case of public location, we do not have full control of the situation. Things may happen or people may appear unexpectedly. It happened to my clients a few times so far but I reacted quickly enough to remove the "obstacle" in time or to quickly modify the place for the proposal.
I do most of the surprise proposal sessions outdoors and I encourage you to choose outdoor locations because it means the best light conditions for your photos. Nothing beats natural light! My clients are often concerned about the rain though. I don't know why. Is there anything more romantic than a marriage proposal in the rain? :) (My husband proposed to me in the rain, I know what I'm talking about!). I've photographed proposals in the rain and they turned out great! Also we can always establish a plan B in case it rains. I'd like to add that apparently I don't attract rain though —I photograph about 50 proposals a year and it has rained only three times so far! ;)
Everyone asks me this question—what if she says "No"? You can't believe how scared I was of that scenario during my first proposal. I imagined that I would only be able to do the following:
However, the more proposals I photograph, the less I worry about it. The clients who hire me as their surprise proposal photographer are truly great and they have lovely relationships. It's such a joy to participate in these special moments in their lives! :)
Surprise proposal photographer — is location important?
Most of my clients are from outside of Cracow, often from outside of Poland. As a result, most of them want to capture some characteristic element of the city in the main photo. You don't have to do it at the crowded Main Square (which I really don't recommend)! I know great places slightly off the beaten track that may meet your requirements. Also, it may be a great idea to organize a surprise proposal at… sunrise. How romantic is that?! That's the only time when the Old Town is almost completely empty and believe me—especially beautiful. But how to convince her to take a walk with you so early? Oh, I have a few ideas. :)
There are plenty of ideas for organizing a unique surprise proposal in Cracow. Sometimes it's a matter of budget (because having exclusive access to certain locations is often paid extra), but most often it's enough to just think a little bit: what would my girlfriend really like? Would she prefer a proposal in crowded Old Town with dozens of passers-by clapping their hands, or would she prefer a secluded location in nature or an intimate proposal in the woods? Or maybe at your own apartment? (Sure, I can come dressed up as a plumber! :). You two are the most important in all of this, not the location. What you'll say to her when you go down on your knee, not what the view will be. Remember that!
Surprise proposal photographer — fails
Many people want to know whether there were any fails when organizing such a session. Of course! But none of them was so serious as to spoil the surprise because they were either solved quickly or they were irrelevant in the long run. Also, so far the engagement ring has been too small only twice. In the long run, this is not a problem either – you can easily adjust the size. :)
Mateusz's proposal at the abbey in Tyniec was one of the most memorable ones to me. He requested a bouquet of balloons filled with helium. The only problem was that there was extreme wind that day. I was pretty sure all the balloons would fly away (because a few of them actually did!) by the time the couple got there. Sometimes taking care of those extra surprises may be stressful because I can't keep standing near them all the time. There comes a time I need to leave them behind and make space for the couple of arrive without arousing suspicion. Do not ask how many times I was afraid that the bouquet of flowers I had left on the ground would be eaten or peed at by the dogs walking nearby! ;)
I also recall Bartek's proposal at Zakrzówek in Cracow. Bartek had never been to the location before and despite a very detailed description of how to get there, he got lost. While he was pretending to be taking pictures with his phone, he texted me, and we finally managed to find each other without his girlfriend suspecting anything. To make it happen, however, I had to leave the perfect spot, which I was trying to "reserve" for them, and when I returned it was already taken by another couple. It required a lot of improvisation on my end to lead Bartek towards the perfect spot and at the same time to ask that other couple to leave. Well, I did it!

My clients certainly deserve special praise! Organizing such a surprise undoubtedly means some additional stress—and there's enough of it even during proposals that no one takes pictures of! One of my clients, in all these emotions, completely forgot a few points of our meticulously prepared plan. As a result, in his beautiful photo of the proposal from the Main Square in Cracow there are some… cleaning gentlemen in the background. I mean there were, because I managed to remove them in Photoshop! ;)
Arek during his surprise proposal, due to all the emotions, failed to position Karolina properly. The correct positioning of the girl is crucial for me to capture her reaction (my clients and I discuss different options when preparing for the shoot). It was impossible for me to run to the totally opposite side quickly enough to capture the girl's reaction. But still, it's one of my favorite proposals and they love the pictures too. I will never forget Karolina's joy—she literally jumped with happiness throughout the whole engagement session afterwards! :)
Surprise proposal photographer — still a new thing in Poland
I was surprised to discover that there is no other photographer in Poland who specializes in photographing surprise proposals and at the same time helping with organization. (If there is, please let me know, would love to meet!). It's a great job but it's definitely not for everyone. It requires perfect organizational skills and a lot of resistance to stress (adrenaline hits hard a few moments before the client falls on his knee!). Knowing your equipment and mastering it perfectly is key.

What's more, you need to be able to find the perfect places and adapt to the individual expectations of the client. You should also take into account such issues as the angle of light at a given time of day (which changes seasonally) and properly calculate the perspective and distance so that you create the most beautiful picture. There is stress, yes, but the satisfaction when everything works out great is indescribable, I'm telling you! :)
Surprise proposal photographer — example sessions
Below you can see a couple of example surprise proposal sessions. I'll never be able to blog about all of them (I'm busy shooting—no time for blogging!). All the photos shown in this article were taken during a real surprise proposal (I never photograph staged proposals!). If you want to see more, check out my Instagram and Facebook too. :)
Are you considering preparing something similar for your second half? Apart from helping you with choosing THE location, I can also bring (and hide!) a beautiful bouquet of flowers, a champagne, or other surprises.
Can't wait to meet you both! ♥️
"I'd like to recommend Ania to everyone! If you're still wondering, do not hesitate anymore, just write to her and I'll explain why. :) A wonderful session, a wonderful end result and most importantly this wonderful moment of proposal captured – it'll be such a great memento till the end of our lives and even longer! All the stress and tension disappeared right after the proposal thanks to Ania, really! I have never participated in a photo session before. Even though it was our first time, we forgot about being photographed and we enjoyed ourselves and the moment so much, which of course turned out great in the pictures.

As if that was not enough, it was simply great to work with Ania both before, during and after the session! She was available at all times and the proposal plan was prepared perfectly. I can assure you she will surprise your partner. Ania will really take care of everything! You need to bring your own ring though. ;) To sum up: if everyone offering services did at least half as good a job as Ania does, with such professionalism and passion for what she does, the world would indeed be a better place. :)"
~ Damian
"Anna was the perfect choice for the surprise proposal I had planned. Quick and helpful responses through email, professionalism and above all, her warm and cheerful character made the moment enjoyable and not awkward at all! From the planning to the photo shoot and the quick delivery of the photos it was truly a pleasure and wouldn't choose anyone else for it. Words aren't enough, you have to be there to feel it! *5*"
~ Pablo
"What can I say, Anna was amazing. My fiance and her had planned a surprise engagement before we got to Krakow. They planned the time, the place, the flowers and the scene. She is such a nice person and has extremely good attention to detail. We were so pleased with the engagement album. Thank you so much Anna. 💓"
~ Deborah
"Highly recommend Anna! She has so much knowledge of the city, so friendly and the photographs Anna captured are UNREAL! She helped out with so much more than just capturing the surprise proposal of me and my fiancée! Anna sorted flowers, champagne, a romantic restaurant in the night to celebrate and even got us the best table in the place! She is so friendly and clearly loves what she does which made the process so fun and exciting! Due to the location of the proposal being just out of the city centre, Anna even sent me directions and all the public transport information to help me get there which she didn't have to do. I urge anyone who is thinking of proposing or even just wants a few photos done in Cracow to get in touch with Anna, she has made our whole experience so special and so fun for me and my fiancée."
~ Aaron