Are you planning to propose and looking for the perfect engagement ring in Cracow? I've created a list of my favourite goldsmiths and jewellery stores below! Mind you—I'm not including here the most common and most widely known jewellery chains in Poland. Most of those offer overpriced rings with boring designs and poor quality. What I'm after is: authenticity, uniqueness, craftsmanship and passion. Make an extra effort and find something truly exceptional for your future wife. A hand made engagement ring that matches her soul and personality. I'm sure she'll appreciate it!
Where to buy an engagement ring in Cracow
Aurarius
Aurarius is a small family-run workshop in Cracow co-owned by Marek Tryjefaczka, his son Grzegorz and daughter Patrycja. They are one of the most renowned goldsmiths in Poland. Tryjefaczka family believes that jewellery is a true art. They specialize in custom-designed hand made jewellery that will blow your mind. I had the pleasure to photograph one of Aurarius's creations during my client's surprise proposal on the Main Square. Isn't this engagement ring stunning?

Where? ul. Floriańska 39, Kraków | FB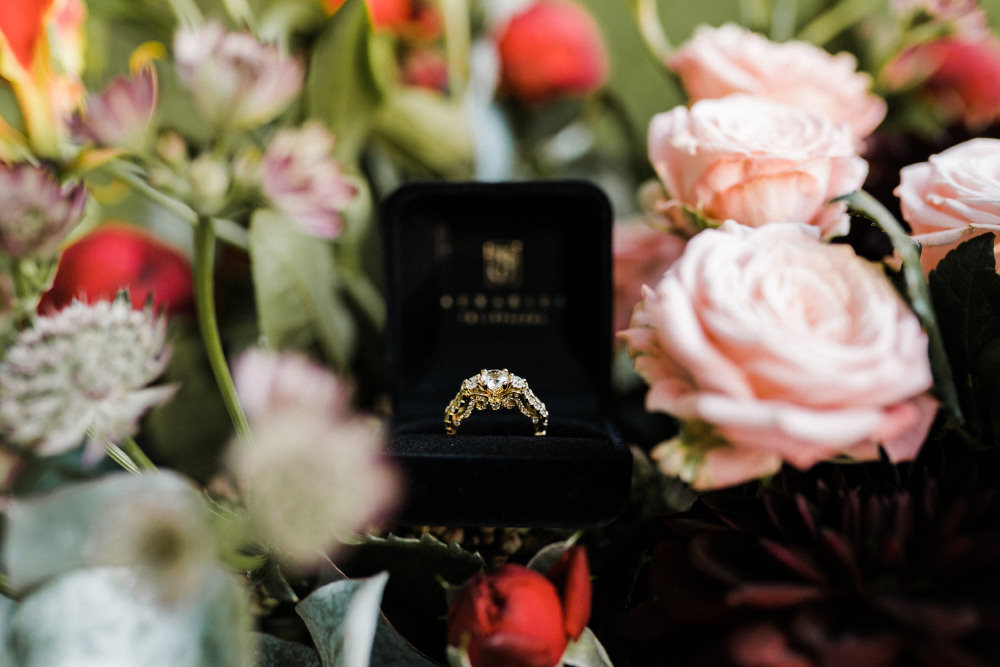 Inne Obrączki
Its name translates into "Different Rings" and that's exactly what they are. If you're looking for something truly "different" for your second half, Andrzej Bielak's work may be an interesting option. He's a true artist who designs jewellery since 1978. Some of his designs are even patented! Each ring is absolutely unique and custom-made. There are a couple of Inne Obrączki stores across Poland, including Cracow, with ready made engagement rings, though the biggest choice or inspiration can be found on his website. Bielak accepts inquiries from the whole world.

Where? Galeria Bielak, ul. Wojciecha Halczyna 3, Kraków | www | FB
Arlekin
Arlekin is a renowned jewellery company founded in 2008 in Cracow. It still uses traditional goldsmith methods of jewellery production and only natural stones. They are specialists at gem cutting, too, so if you own a stone you'd like to convert into an engagement ring in Cracow, Arlekin will be the place to go.

Where? | Kazimierza Wielkiego 79, Kraków | www | FB
Argenta Mistica
Maciej Kudajczyk's work is the opposite of traditional engagement rings. This goldsmith, based in Cracow, uses only natural stones. His designs are impressive—incredibly meticulous and detailed but there are some simpler and minimalist options available as well. Argenta Mistica doesn't have an online shop, all orders are made via his Facebook Page. The good news? The ring can be picked up personally in Cracow. Kudajczyk is one of those artists who like to be fully trusted when it comes to his creativity and skill and he won't copy other artists' work. If you send him an example of a ring you like, it will only be an inspiration.
Where? Kraków | FB
WĘC
Family-run jewellery shop present in the industry since the '70s. It's a very popular shop in Cracow, known for its impeccable customer service and a very extensive selection of engagement rings. There, you'll find traditional rings as well as more creative and complex designs. Thanks to the use of new technologies, they are able to recreate virtually any customer's wish.

Where? ul. Jana Kurczaba 3 | www | FB
Where to buy a beautiful engagement ring online
Now if you have more time to plan your proposal in Cracow and don't necessarily need to buy your engagement ring in Cracow (but you want to order it to your home, for example), do check out the options below!
Arpelc
Arek is a jewellery designer and master goldsmith who's spent years gaining his experience in New York. Both my emerald engagement ring and wedding rings are Arpelc's creations and I couldn't be happier with how they turned out. Each of his rings is hand made and absolutely unique, with natural, Earth-mined ethically sourced gemstones. The quality is outstanding, the minimalist designs are wonderful and a little heart cut out in the back adds such a lovely touch to an engagement ring. He's based in Gdańsk but ships everywhere. This is the perfect choice for delicate and minimalist jewellery lovers (like me!).

www | FB
Trzpiotka
Handcrafted jewellery by Paulina Michalak. She is now based in Warsaw but gained her experience in Australia. The artist is inspired by stars, nature and women's beauty. All gems used by Trzpiotka are natural and she works both with silver and gold. Perhaps she doesn't currently have an extensive choice in her online shop but I absolutely love her rings' elegance and simplicity. International orders should be made via Etsy.

www | FB
Bizoe
Bizoe was founded in Katowice by two friends—Kasia (goldsmith) and Ania (gemologist). Bizoe's style is very characteristic and mostly minimalist. Their rings are hand made from gold or platinum, they look strong and robust, have distinctive sharp edges and many feature colourful precious stones. They will be perfect for a self-confident woman who loves unique art!

www | FB
Lookrecya Dream Jewelry
Patrycja Mordalska likes to call her work as "jewellery for modern princesses" or "jewellery made from fairy tales". Indeed, some of her meticulous designs are truly breathtaking little pieces of art. It's important you trust her vision because each ring is different and made to order. She used to have a workshop in Cracow but now moved to Copenhagen. Good news—she ships internationally!

www | FB
I hope you enjoyed my list of the best jewellery makers. However, if you didn't like any of the options above, it may mean you're looking for a more traditional engagement ring. In that case, just go to any shopping mall (such as Galeria Krakowska, adjacent to the city's main railway station) and visit one of the many jewellery stores there. If I had to choose one, I'd advise you to visit W. Kruk, which is the oldest Polish jewellery brand, dating back to 1840. Here are some examples of engagement rings by W. Kruk. Alternatively, Ania Kruk might be a good option, too. Good luck! :)
If you're planning to propose in Cracow, you're lucky—I'm the only photographer in Poland specializing in photographing surprise proposals! I'll help you find the perfect location to propose, arrange flowers and other extras and most importantly I'll photograph the moment for you. Let's talk details! :)
Read a post about how I photograph surprise proposals and why I love this job so much here:
Cracow surprise proposal photographer